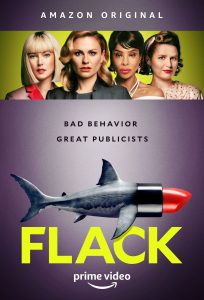 While I've been known to prefer the dark side in my viewing habits, and don't do heartwarming well, that doesn't mean I can't enjoy something upbeat. Just as long as there aren't too many trips to the cornfield. These three selections, now on Amazon Prime Video, were a perfect trifecta of optimism, woman power, laughter, and tears.
Comedy series Flack stars Anna Paquin (True Blood) as publicist Robyn, an expert at management crisis, although she tells her intern that they don't use the word crisis – they say challenges. And there are plenty of challenges to go around. On the personal front, Robyn is a cokehead, who can't stop having sex with random strangers, even though she wants to clean up her act to have a baby with live-in boyfriend Sam (Arinzé Kene). Sam has no idea about her other life, thinks she's been sober for some time, and is unaware she's taking the Pill. In trying to help her married-with-kids sister Ruth (Genevieve Angelson), Robyn only creates more problems. It doesn't help that their mother, who they moved to London to avoid, committed suicide by jumping off the Brooklyn Bridge. Although the way Robyn looks at it, she doesn't have to worry about it happening anymore. On the job, Robyn handles celebrity catastrophes with agility and calm, whether it's a philandering, very much married, chef; a young pop star who's been dropped by her label; or a gay actor whose boy toy has OD'd on him. Robyn can spin it better than anyone, and get the most resistant player to go along with the story. She does have her boundaries though, refusing to coerce a 17-year-old into doing a sex tape to save her career. Instead, Robyn gets a body double – the star's mother. 
My favorite character was Robyn's boss, Caroline (Sophie Okonedo, Ratched, His Dark Materials). Caroline makes Miranda Priestly from The Devil Wears Prada look gentle as a lamb, and Okonedo's deadpan delivery is funny as hell. It got to the point where I would just see her, and start to laugh. Not far behind in amusement is Robyn's co-worker and cohort in crime, Eve (Lydia Wilson), whose defense is her wit. Eve gets a lot of the good one-liners such as, "I only buy handbags made by free range children," and during an emotional moment, "It's times like this I wish my tear ducts worked." She also gives us the most poignant line in the series, "There's one thing all human beings share; the ability to disappoint." 
Paquin is a natural at physical comedy; not the broad, falling down type, but the fumbling for something in her purse type. Flack made me laugh a lot, but it also made me root for the characters. I hoped Robyn would make the decision to earn her NA chip for real, that Eve would drop her defense and find real love, and that intern Melody (Rebecca Benson) would stop hiding her fondness for the IT guy in order to seem cool in front of the big girls. Flack has been officially renewed for a third season, but there's no release date yet, so you have time to catch up on the first two now.
Get out the popcorn for Chick Fight. A combination of Fight Club, Cobra Kai, and Flashdance, this film tells the story of Anna (Malin Akerman, Billions), the owner of a coffee shop, who's barely getting by in life. On a particularly bad day, her friend Charlene (Dulcé Sloan, The Daily Show), an officer of the law, introduces her to a female fight club. More than just a place to show off their skills, Charlene swears it lifts the lid on the pressure cooker of life. First timers have to either fight other first timers, or fight club manager Bear (Fortune Feimster, The L Word: Generation Q), who was named after the animal, but has lost most of the hair. Bella Thorne (The Babysitter, Robot Chicken) plays antagonist Olivia, who Anna challenges to a fight, not realizing she may have picked the wrong adversary. Enter Murphy (Alec Baldwin, everything), a has-been worldwide champion, who once trained Sugar Ray. He trains Anna on the beach by having her punch a watermelon, while he sips a drink in a hammock, telling her that all watermelons have a weak spot, and she has to find it; just as she would an opponent.
There's nothing deep here, just pure entertainment. The fight scenes are excellent, and well-choreographed, and the story has a couple of nice little twists. There are a few laughs as well, with Baldwin in the lead there, performing the sort of role he could probably play in his sleep. Chick Fight is enjoyable without you having to think too hard, which isn't a bad thing right now.
Like I said, I'm not a Hallmark movie person by any stretch of the imagination. Not that there's anything wrong with that, but I wasn't sure if Herself would be something I'd like. Still, the premise looked interesting, so I checked it out.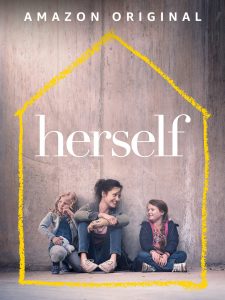 A film from Ireland, Herself is the story of Sandra (Clare Dunn), a wife and mother of two young girls, who escapes her abusive husband to forge her own way in the world. After being beaten and having her wrist permanently damaged by her husband Gary (Ian Lloyd Anderson, Vikings), Sandra divorces him and goes on the dole, living in a hotel with her girls while Gary moves in with his parents. While perusing the internet, Sandra stumbles across the plans to build your own house for $35K, and becomes single-minded in her quest to give her girls their own home. At first, Sandra  tries to get help from the social service putting her up at the hotel, telling them it would be more cost effective to give her a loan than to pay for her residence, but she's turned down flat. She has the good fortune to be the cleaning lady for Peggy (Harriet Walter, Killing Eve), a doctor who's laid up with a broken hip. When Peggy wants to give Sandra the land and lend her the money to build, Sandra balks, but Sandra's mother had also worked for Peggy, and Peggy tells Sandra that her mother had been more than a cleaner. She'd been a friend who helped Peggy through some "bloody awful times," and Peggy wants to pay it forward.
At the Irish version of Home Depot, Sandra meets Aido (Conleth Hill, Game of Thrones), a retired contractor with a bad heart, who only does odd jobs now. What starts with Aido's son giving Sandra a pair of work boots, and Aido's reluctant agreement to help her, building a house moves forward. Little by little, Sandra, Aido, and Peggy find more volunteers, and the house comes together. It has to be kept a secret though, or Sandra could lose her benefits and child support. Meanwhile, Gary continues to be a pain in Sandra's ass, cajoling her to get back together, and giving her a hard time when youngest child Molly (Molly McCann) refuses to see him during his scheduled visits. When daughter Emma (Ruby Rose O'Hara) gets hurt on the job site, where she's not supposed to be, Gary takes Sandra to court, and tries to gain custody. What happens next, with both the court and the house, is for you to watch, as there are a few surprises and I don't want to ruin it. All I'll tell you is, I cried before the end.
What I really loved about this movie was what Aido described as meitheal, an Irish tradition of pulling together to help, and by doing it, being helped in return. This practice came from a time when people in rural communities gathered together on a neighbor's farm to help save a crop, and each person who was helped would reciprocate. Everybody benefited in some way, and it built up strong friendships and respect among those involved in the meitheal. (Paraphrased from the definition found on GIY Ireland.) Watching the group working together touched me personally, as I had a similar situation after Hurricane Sandy. Our house had been flooded, and friends, friends of friends, neighbors, and people I barely knew, came together to help us recover. Like Sandra, I had my own Aido, who showed me the construction ropes, so I too, could work alongside everyone.
Directed by Phyllida Lloyd (Mama Mia! and it's sequel), both the story and the characters are very believable. Written by star Clare Dunn, who also co-wrote the script, the issues Sandra faces across the pond aren't any different than the ones too many women face in the U.S. Her problems in dealing with an abusive relationship, motherhood, and a system that doesn't recognize her as an individual, are relatable no matter where you come from. It's well-written, often heart-wrenching, but never sappy, and the acting is authentic. The soundtrack is excellent, sprinkled with songs from bands like The Killers and The Cranberries. Sandra proves that you can overcome any obstacle and start over, and start over again if it doesn't work out.
So if hearts and flowers aren't your scene, but you still want a little lift, take a look at what these Amazon women have to offer. You'll be entertained and encouraged, but you won't walk away covered in sugar.