It Seemed a Fairly Ordinary Night...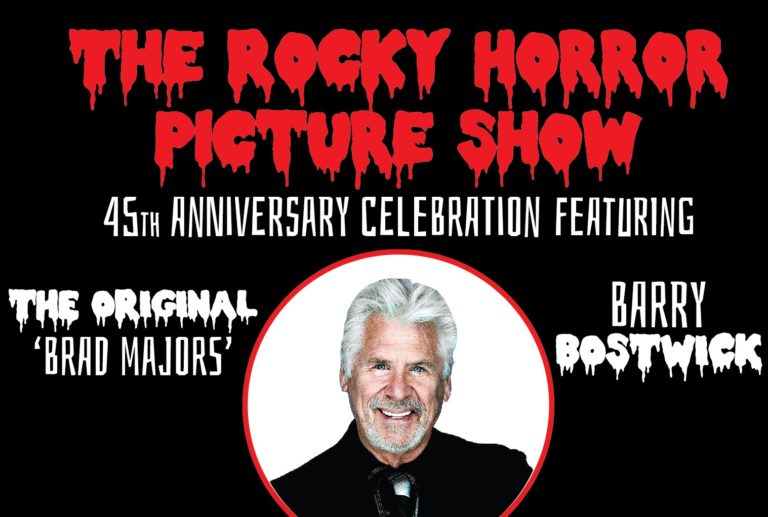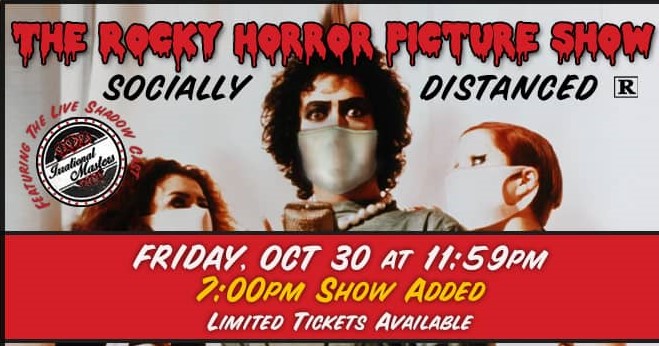 Silly me. I told everyone, it's a fad; it will pass. When is a fad not a fad? When it becomes an institution and a tradition, goes on for decades, and is something that even a pandemic can't stop. And I started it.
"Is it a horror film?" I asked.
"That depends on what you're scared of," he answered.
I'd just moved to NYC and was hanging out with a friend at Ninth Circle, a gay bar in Greenwich Village. We were getting our drink on and meeting people, and we'd met the manager of the New Yorker, an uptown theater showing The Rocky Horror Picture Show. I didn't really know much about it, except that it was a musical, since I'd seen the soundtrack for the L.A. stage production. I was definitely intrigued, and game for anything, so he told us to pick up the tickets at the box office that Friday night. He also handed us a joint. Smoke a joint? In a movie theatre? I wasn't exactly naïve, but I had never heard of such a thing. Apparently, I wasn't in Kansas Ohio anymore.
After getting to the theater, my exhausted friend promptly fell asleep, leaving me to navigate the film on my own. At first, I didn't know what to make of it. Barry Bostwick (Brad Majors) was dancing backward through a graveyard, singing, and I wondered if it was some kind of joke. By the end of the movie, I thought if it was a joke, it was a well-written one, and one I couldn't shake. I told a few friends about it, and we decided to check it out at the Waverly in the Village. 
There, it was a whole different crowd and vibe, and the air was electric. We sat in the balcony, where I would end up spending quite a few weekend midnights, but I hadn't meant for what happened to happen. As my roommate and partner in crime at the time would say, it was a private joke gone public. Winter break from school came too soon. I was going to my dad's house for a few weeks, and although I missed my family, I didn't want to leave the city, my friends, or Rocky Horror. Ironically, RHPS was both therapeutic and addictive; both the habit and the rehab. So I decided to do something special before I left.
On a particularly high good night, our row had spontaneously gotten up to applaud Frank-N-Furter (Tim Curry) after he sang, I'm Going Home, and for a brief moment, it felt like I was a part of the movie. I came up with the brilliant idea that if we threw confetti from the balcony at the same time they did it in the on screen, the audience downstairs would think they were in the movie, not just watching it. I never know what to say when people ask about it, and they still do, since I was immortalized in Creatures of the Night by Sal Piro. You're welcome or I'm sorry both seem appropriate, depending on what your opinion is of the whole thing. I had no intentions beyond that night, and I would never, ever throw food. I don't even like breakfast in bed.
Apparently, the audience appreciated my efforts, because by the time I got back, it had become a thing. A few weeks later, my sister called me from Ohio. She said I was never going to believe it. They were throwing confetti at RHPS in Cleveland Heights, and none of us had been near the place. It soon became the confetti thrown round the world. A plethora of things were added – from throwing toast and toilet paper, to yelling what would become an alternate script, to dressing up as the characters, mimicking the action on the screen – but it was like that confetti became some kind of turning point. What I'd thought was a silly fad, turned into the gift that keeps on giving. 
Around Halloween, I grow nostalgic for Reese's Peanut Butter Cups, even though I don't like them the way I used to. It's the same with RHPS. It doesn't affect me the same way, yet I still think about it at Halloween. This year, I wondered how the pandemic affected the film. If part of the charm is in audience participation, what happens when they can't participate the same way? Did the whole phenomena finally die of unnatural causes? In a word, no.
I was shocked at how resilient and creative fans could be, and how a movie that had taken on a life of its own, continued to remain healthy during a time of contagion, at a time where we needed to distance ourselves from one another. The very setting was an issue of health and safety, but to some, going to RHPS is an issue of their health and sanity. Fans immediately began staging virtual events, and attending drive-ins and pop-up screenings. For Halloween 2020, the events are many. The Starlight Drive-In in Indiana is celebrating the film, as well as The California Center for the Arts, which is also selling a Rocky Horror survival kit. Although their site didn't indicate what might be in it, I doubt toilet paper will be included. Mayo Performing Arts Center in New Jersey is giving out a goodie bag that includes a noisemaker, confetti popper (you're welcome/I'm sorry), party hat, and glowstick, and they want you to know, these props have been "carefully chosen." The Winston-Salem Drive-In got Barry Bostwick for an anniversary spectacular, Parklife Outdoor Cinema in Brooklyn is Time Warping, and Allegany Allied Arts Maryland will be having virgin games and a costume contest. $250 gets you a premium table for 8, and includes survival kit grab bags and T-shirts. Again no mention of what's in the kit, or even what we're supposed to survive. Meetup has an event in Denver, and there's a masquerade ball in Birmingham. What is this? New Year's Eve?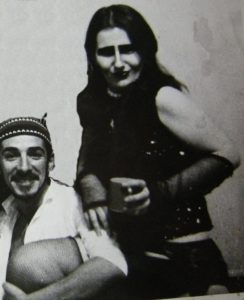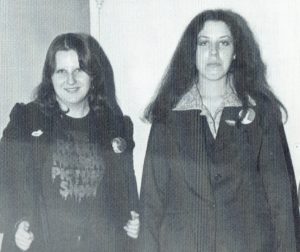 Recently, there were shadow cast auditions for a Halloween showing in Waco, Texas. Since the safety of the audience and performers is of utmost importance, along with putting in a new air filtration system, they said they were "working on creative solutions to staging to keep as socially distanced as possible." I'd love to see that. The award for most steadfast goes to Nathan Williams of the Clinton Theater in Portland, Oregon, who has never even slowed his roll. He's been showing the film to groups of 10 or fewer people on the weekends, sometimes even just himself and a small crew, instead of the usual boisterous crowds. It's run uninterrupted since April of 1978, and is the longest running screening in the country. Even merchandising hasn't been left out, a limited edition vinyl picture disk being issued this week, with a beautiful shot of Tim Curry as Frank on it.
The pièce de resistance comes from the Wisconsin Democrats (not endorsing any party here), who are having a Rocky Horror Show Livestream on Halloween with Tim Curry, Barry Bostwick (who's apparently pulling double-duty) and Nell Campbell. Also joining them will be Wilmer Valderrama, Lance Bass, Rosario Dawson, Seth Green, Jason Alexander, and David Arquette, along with some musical guests, including Rumer Willis. Party chair Ben Wikler said, "Rocky Horror has been changing lives for decades… and now it's going to change the world again." I don't know about that, but then again, I had no idea what would be unleashed by handful of confetti.
I asked my old roommate/cohort what she thought about the longevity of RHPS, and its abundance at Halloween. She said she hadn't really considered it before, which surprised me, and that in some ways, maybe it's the perfect fantasy to want to incorporate yourself into, even if it's just for a couple of nights a week. It didn't surprise me that she brought up the Don't Dream It, Be It theme, and said maybe it spoke to that part of all of us that wants to still have dreams. In Grace Larson's article for Study Breaks, Is It Finally Time to Phase Out the Rocky Horror Picture Show? she thought perhaps it was time for the film to fade, Frank having "problematic characteristics" as a predator. She also cited some terminology not being appropriate for our time, something that Laverne Cox wrestled with when she filmed the 2016 remake. However, Larson also admits that RHPS has contributed greatly to the LGBTQ+ community, and many individuals learned to understand and embrace their sexuality with the film's help. She said, "[It's] a place of refuge for queer youth that have not come out yet," as well as those not accepted by their family and friends. While Frank does pay for his offenses in the end, I believe my friend was right. There probably isn't one person who doesn't have a dream, and inclusivity has always been key. Like the variety of Transylvanians doing the Time Warp, it doesn't matter if you're young or old, short or tall, fat or skinny, or any proclivities you might have, if you can dream it, you can be it.
In a recent interview with the NY Post, director and co-writer Jim Sharman told Johnny Oleksinki, "I love that audiences have derived such pleasure from it. Whether you dismiss it as B-movie schlock – which some of it is, often deliberately so – or perceive its depths which simmer below the surface, or treat it as wallpaper for a party, it seems to satisfy some mysterious need. I love that outsiders have found a movie that speaks to them. It's certainly the late-night audience who made it a classic. It wasn't made like any other movie and was left alone to be itself, so it has a life of its own."
I couldn't have said it better myself. You're welcome, I'm sorry, and stay safe out there on Halloween.