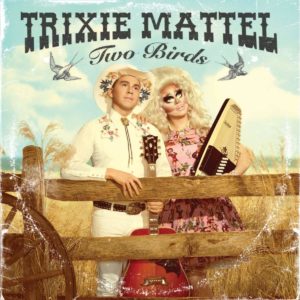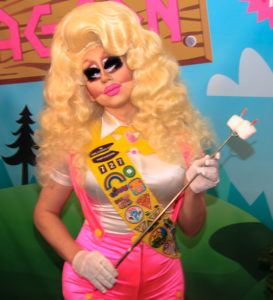 One of my favorite toys as a child was Barbie, and I still haven't outgrown her, even though my relationship with her is a little different as an adult. I acquired my first Barbie as a bribe, when my older sister wanted me to turn a blind eye to her boyfriend coming over when our parents weren't home. Other than putting a bonnet on our cat, and pushing him around in a stroller, I wasn't much for baby dolls, but Barbie was another story. She was all about the fashion, the career, and of course, the dream house. While that first Barbie is long gone, I've been collecting the dolls for many years, my favorites being the reproductions wearing the outfits I had for her when I was little, and the ones patterned after various films and television shows. I hunted down the Elle Woods (Legally Blonde) Barbie like it was my job, and my husband knows if he doesn't get me the Holiday Barbie for Christmas, he risks the locks being changed when he's at work. One of my neighbor's children was visiting one day, and asked why I don't take them out of the boxes and play with them, to which I answered, "resale value." Seeing her perplexed look, I told her she'd understand when she was older. Although I have to admit, there are times when I would like to give her the freedom she so richly deserves. She's also how I found a kindred spirit in Trixie Mattel. While I've heard Trixie doesn't mind any pronoun, for continuity's sake, I'll stick to she.
Apparently, I'm late to the Trixie party, but maybe you are too. Trixie Mattel is the stage name of drag queen Brian Firkus, but she's a queen who wears many wigs. A contestant in season 7 of RuPaul's Drag Race, Trixie was eliminated four weeks in, brought back, then eliminated again, coming in sixth. She finally got her drag due when she won All Stars season 3, but I missed all that. While I've loved RuPaul since he sashayed into my life with Supermodel (You Better Work), I've only been able to catch Drag Race a few times. I noticed Trixie when I found out about her massive Barbie collection after reading an article in A.V. Club. She won't say exactly how many she has, lest she become a target for thieves, but admits to having an eclectic collection, with dolls dating back from 1959 to the present. Like myself, she loves the fashion, has said Barbie is really the one who taught her what head-to-toe dressing was all about, and sends pictures of dolls, rather than runway looks, to designers. The first Barbie she purchased for herself was 1969's talking PJ Barbie, dressed in a floral bell-sleeved mini dress and go-go boots, Trixie's style being most influenced by the Mod Barbies in Pucci minidresses. Not allowed to play with dolls as a child, in an interview with Vogue's Brooke Bobb, Trixie said, "[Barbie] is significant stylistically, of course, but also because everyone has a personal tie to her… For me, Barbie played a big part in helping me to realize, growing up as a little gay boy, that maybe I could just do whatever I wanted and be whoever I wanted… Nearly every boy growing up who is gay remembers that longing of wanting to play with Barbies or have their own Barbie. I think that's changing, and I hope it is. Kids should be able to play with any toy they want." Hear, hear! 
Then came Trixie's album, Barbara. I stumbled on the song Malibu, which led me to watching several videos from the album, where Trixie performs for an audience of the above-mentioned Barbies, and I fell in love with Trixie's music. As if two of my favorite things, drag queens and Barbies, weren't enough, this album has a country/60s pop/beachy sound which I adore. If we were living in the 50s, it would have been called dreamy. It's happy music, but just a little bit wistful. Even when the lyrics are slightly risqué, as in Jesse Jesse and Girl Next Door, Trixie makes them sound sweet. 
I had to investigate further. Who was this tall, blonde, and Barbielicious queen I'd known nothing about? Born in 1989, Trixie is from the small town of Silver Cliff, Wisconsin, population 483, where she lived on a dead-end dirt road, had no indoor plumbing until she was twelve, and eventually studied musical theater at the University of Wisconsin-Milwaukee. Inspired by her grandfather, who sang country music and played guitar, as well as having a wicked wit, Trixie thought she was going to be a songwriter. Not getting much traction at open mic nights, she began performing drag at The Rocky Horror Picture Show shown at Milwaukee's Oriental Theater. While celebrating her 21st birthday at club LaCage in Walker's Point, she met Bebe Zahara Benet, winner of the first Drag Race. Benet told her, "Keep doing drag. It will take you anywhere." And so it did.
Trixie took her stage name from a jab by her stepfather, who was physically and emotionally abusive, calling her Trixie as an insult to her feminine behavior, and also from the Usherette character in The Rocky Horror Show, who's also known as Trixie. She began performing in clubs, and hosting Bingo at Hamburger Mary's, which eventually led to her being a contestant on Drag Race in 2015, and moving from Milwaukee. In 2017, Trixie came out with her debut album Two Birds. Having done lip-syncing in shows up until then, a bad break-up caused her to start writing music again, and bringing it to her stage act. Two Birds was followed by One Stone in 2018, and eventually Barbara in 2020. Trixie has said her primary influences are Dolly Parton, June Carter Cash, Jason Isbell, and Kacey Musgraves. In an interview with KC Ifeanyi for Fast Company, Trixie said about her recordings, "I love chronology. So my original album [Two Birds] was like 50s radio country. The second album, One Stone, was a little more like folk revival, late 60s. The new sound [Barbara] is a little more post-Beatles, like buzzy radio, hand clappy – it's more fun." In combining her music with her comedy/drag shows, Trixie told David Reddish of Queerty, "My music comes from a really honest place, and with stand-up, those deep, dark jokes are all rooted in truth. It's a good pairing."
Her stint on season 7 of Drag Race led to a friendship with Katya Zamolodchikova (Brian McCook), who was also a contestant, and also not a winner. They were paired up for a special Fashion Photo RuView, and decided to collaborate on YouTube show UNHhhh, where they discussed a single topic per show. UNHhhh was eventually brought to television, and turned into Viceland's The Trixie and Katya Show. The pair also do a Netflix show called I Like To Watch (edited versions of which can also be found on YouTube), where they do commentary on Netflix programs. Anyone who knows me, knows that the only thing I like better than watching TV is watching other people watch TV and making snarky remarks. It doesn't get better than watching these two queens who are hysterically funny. Trixie's laugh alone makes me laugh, and they haven't let the pandemic slow them down, with a Home Edition where they do the show remotely. 
Television wasn't all bouffants and high heels though. During the first season of The Trixie and Katya Show, Katya experienced a psychotic break, went to rehab, and was replaced temporarily by Bob the Drag Queen for the rest of the season. During this time, Trixie was also filming a documentary about her life in drag and out called Moving Parts (produced by long-time partner David Silver), where Katya's breakdown ended up also being filmed. Katya has said, "[Trixie] just kind of waited it out. And forgave me. That is really incredible, because I kind of don't know what I would've done in her situation." Trixie and Katya have also penned a book, Trixie and Katya's Guide to Modern Womanhood, which was released this past July. 
Did I mention Trixie also has a cosmetics line, and in addition to playing guitar, plays the harpsichord? Is there anything this queen can't do? Apparently not. Even RuPaul has told her, "You're doing things no one has ever done – not even me." While RuPaul might have brought drag into our living rooms, Trixie has (hopefully) expanded our minds, telling GQ's Caity Weaver, "The idea that it's still just a gay thing for gay people is closed-minded. It's like saying, I shouldn't listen to hip-hop because it's for black people. That is literally the same… It's an art form born in the gay world, but you don't have to be gay to like it or watch it. It doesn't make you gay." After watching Moving Parts, Trixie said she was crying at the end of it. "I was like, this makes me feel like I did something with my life. In drag, sometimes you're sitting there in a chicken suit like, what are we doing right now? This movie makes me feel like I could die and I did something." A feeling we'd all love to have. 
And who knows what might be next? There's an election coming up. Perhaps Trixie will throw her tiara in the ring. But regardless of what it is, I have no doubt it will be fun, fabulous, and worthy of the Barbie name, which is just what we need right now.