Lovecraft Country,
Where the Horror is Real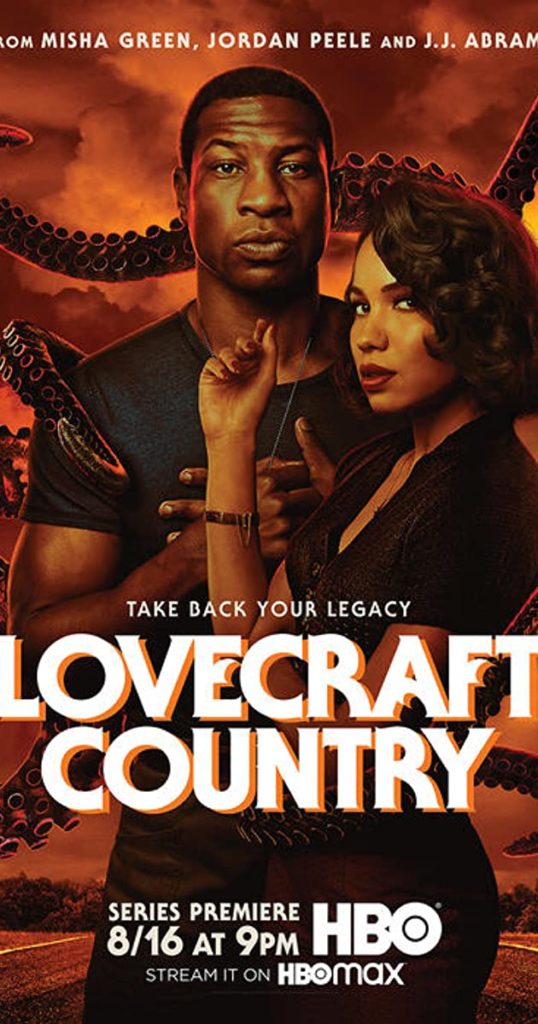 I stumbled on Lovecraft Country a couple of weekends ago, when I left the TV on the same channel after watching a movie on HBO. I'd seen a promo for it, thought it looked good, and knew Jordan Peele was involved, but I'd assumed it was an anthology series of H.P. Lovecraft stories. Boy, was I wrong. 
Lovecraft is present, but the story is ongoing, and comes from the mind of Matt Ruff and his novel of the same name. Adapted for TV by Misha Green, along with Green, Jordan Peele (Get Out, Us) and J.J. Abrams (Armageddon, Cloverfield) are co-producers. The story revolves around Atticus "Tic" Freeman (Jonathan Majors), and begins when he, his Uncle George (Courtney B. Vance), and friend Leticia (Jurnee Smollett) go on a road trip through Jim Crow America to find Atticus's missing father Montrose (Michael K. Williams). Set in the 1950s, it's a horror story on two levels; a traditional tale of terror, and the real life nightmare of racism. In between, is a third story of family and friendships. 
While I'm a big fan of the horror genre, I've never read Lovecraft, and was unaware that he was a racist of the first magnitude, supporting lynch mobs and saying he knew Hitler was a clown, but liked him. Many of his stories were built on racist metaphors, and as Aja Romano of Vox says, "Often these metaphors involve his deep fear of miscegenation (race-mixing), hereditary evil, and his concern that he himself might have an impure bloodline, which all takes his 'monster is me' trope in a terrible direction." In speaking at a panel discussion on Lovecraft's racism, Matt Ruff said, "In giving vent to his bigotry, [Lovecraft] taps into a larger fear that I think we all have of people who are different from us and mean us no good. It's one of the reasons you can take his stories and repurpose them… He may not have realized the universalism of some of what he was writing about, but I can take that away from his work." Early in the series, Atticus himself tells us, "Stories are like people. The author doesn't make them perfect, you just try and cherish them, overlook their flaws." I can totally identify with this, as I decided long ago that if I stopped watching/reading/listening to everyone whose belief system differed from my own, radically or otherwise, I'd have precious little entertainment in my life. Joelle Monique from AV Club compares the show to fan fiction, saying it's "a delight for readers fond of the author's monsters, but not the man himself."
Every horror fan knows, if you find a magnificent 16-room apartment in New York City for only $49 a month – run. The same goes if you find yourself staying at a Victorian mansion the size of a small country, that contains shelves of your favorite books and a fabulous wardrobe of clothes that are miraculously in your size. No one ever does though, and neither do Atticus and company. A Korean war vet, Atticus returns home to Chicago after receiving a letter from his missing father, telling him a secret legacy has been kept from him, and can be discovered in Ardham, Massachusetts, which he also calls Lovecraft country. (In his stories, Lovecraft based the location of many of his horror tales in the fictional Arkham, based on the real Massachusetts town of Oakham.) This begins Atticus's journey to find his missing father, and his legacy. While the terrors of a racist, segregated America are real enough, it isn't long before the group also comes across monsters like those Atticus has read about in the pulp fiction stories he loves. Atticus finds out he's related to the Braithwhites, who see minorities and women as inferior, and are part of a cult called The Sons of Adam, the leader of which is trying to open the door to the Garden of Eden and attain immortality. And that's just the beginning. 
Stylish and visually stunning, the show also has an amazing soundtrack that runs the musical spectrum of soul and R&B of the time, to classical music and modern pop, to obscure gems like Gil Scott Heron's Whitey on the Moon, which has haunted me since I heard it. Some live musical performances are thrown in for good measure. The settings are incredible, and not limited to the transformation of America to the era of the 1950s. I was particularly impressed with the Braithwaite Lodge, real life's Alta Vista in Georgia, also used in Netflix's The Haunting of Hill House, and enlarged by CGI for Lovecraft Country. It has to be seen to be believed. Another location employed is the most photographed house in Georgia, 1840's Victorian estate, the Parrott-Camp-Soucy House, used for exteriors in The House with a Clock in Its Walls. The effects are astonishing, and the plot full of surprises. 
When I like something, I'm always all-in, and already started reading the book. Ruff is an amazing writer. While I love horror, Dean Koontz has always trumped Stephen King for me, as his stories are tinged with real life scaries, such as government plots and police corruption. To me, nothing is more frightening than not only worrying about the thing under the bed, but also the home invasion coming through my front door. Lovecraft Country does the same thing, using frights based on fact, from cross burnings to medical experimentations on African American people. Leticia discovers the latter after she buys a house where such experiments took place, and the dead return in both a horrifying and heart-wrenching scene. 
The Chicago Sun-Times says the cast of Lovecraft Country is "one of the best casts we've seen in any series this year," and I agree. The acting is no less than brilliant. As many levels as there are to the story, the actors bring so many more to their characters, as they wrestle with the reality of systemic issues, otherworldly forces, and interpersonal relationships. Atticus also has to come to terms with being a descendant of a people who enslaved his ancestors. The performances are both subtle and fierce, and no one has wielded a baseball bat as well as Jurnee Smith since Beyoncé's Lemonade.    
A good story should also make you want to learn more about its subject matter, and Lovecraft Country has done that for me. Being part Native American, I've always been sympathetic to the struggles in the African American community, but my landscape of knowledge has grown after seeing this show. I've learned about atrocities like the aforementioned experiments, and the 1921 Tulsa Race Massacre, where the Greenwood section of Tulsa was burned to the ground while its citizens were detained in holding centers, as well as the bust of Lovecraft being retired as an award for the best fantasy fiction. Who knew a horror series could be so educational?
In my opinion, this is a jaw-dropping, don't look away for a second, must-see TV, and I can't wait for the next episode. There aren't many programs I say that about, and I don't think I've looked forward to a series this much since Z Nation went off the air. In a time when the bar has been set high for television entertainment, Lovecraft Country sets it even higher. It's a show that's not just wanted, but needed.