A Little Bit of Soap: From Daytime To Beyond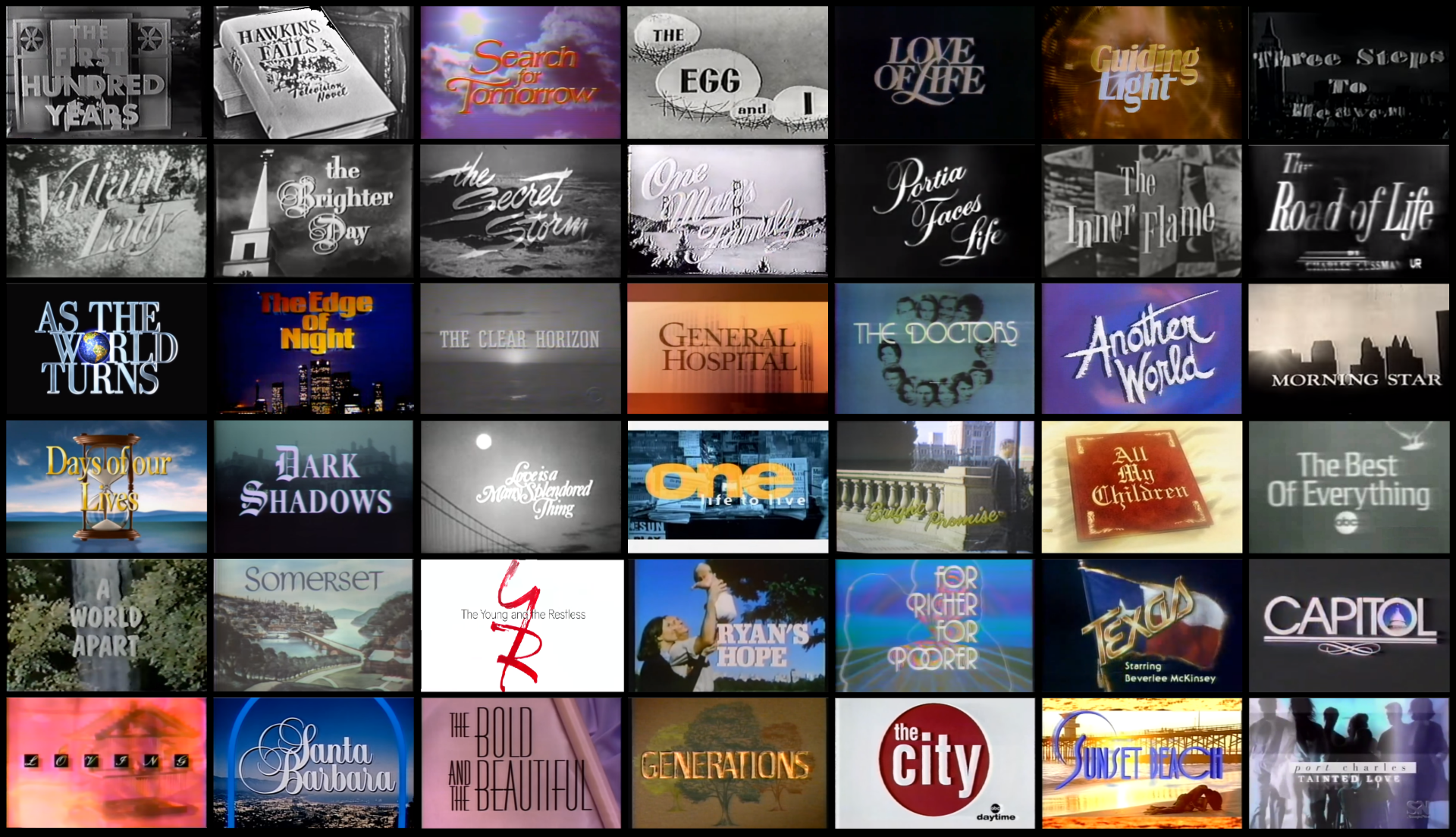 Do you watch soap operas? Wait. Before you answer that question with a no, think about the television shows you have enjoyed over the years, and read this definition from Oxford Languages:
soap op·er·a (/ˈsōp ˌäp(ə)rə/) – noun – a television or radio drama series dealing typically with daily events in the lives of the same group of characters.
Recognized by historians as the first soap opera, Painted Dreams, premiered on October 20, 1930. Broadcast from Chicago radio station WGN, it was the creation of Irma Phillips, who worked for the station as an actress. She was asked to create a 15 minute daily show "about a family" that would be aired during daytime hours. The storyline revolved around the relationship of Irish-American widow Mother Moynihan and her unmarried daughter, the role of Mother Moynihan shared between Phillips and another member of the writing team, Bess Flynn. Both women went on to create other dramas, Phillips also creating Guiding Light, As the World Turns, and Another World. She also mentored modern day soap pioneers Agnes Nixon and William J. Bell. 
The term "soap opera" originated from radio dramas originally being sponsored by soap manufacturers, and from the 1930s to the 1950s, American soap operas continued to revolve around middle-class families in small towns. Immorality and violence, strictly offscreen, often affected the lives of the family members, but the good guys always won, or at least the bad guys were punished. The reality of daily life was almost never part of the action, most scenes were set indoors, conversation was intense, and humor limited.  
As with other television genres, by the 1970s, the style and content of soap operas had undergone a revolution. Plotlines contained topics such as abortion, drug abuse, wife abuse, and STDs. All-white, Anglo-Saxon casts began to include characters of various racial and ethnic backgrounds. The traditional emphasis on romantic and marital problems remained, but promiscuity, violence, and criminal activity were added to the drama. Some programs were expanded to 60 minutes, and a few even aired during prime-time hours. By the 1990s, Marlena Evans (Deidre Hall, Days of Our Lives) was possessed by the devil, Clint Buchanan (Clint Ritchie, One Life To Live) had time traveled to the Old West, and an entire soap revolved around the supernatural, a main character being 300-year-old witch Tabitha (Juliet Mills, Passions), who had a closet that housed several doors to hell. Unlike it's 1960s predecessor Dark Shadows, the camp in Passions was intentional, and since soaps were no longer filmed live, there was little chance of seeing a microphone dangling from above, actors struggling with props and set pieces, or teleprompters ending up as part of a scene. Over the years, modern issues sometimes created controversy, such as Erika Kane's abortion (Susan Lucci, All My Children, 1973); often tugged at viewers' emotions, like when seven-year-old BJ died, and her heart was transplanted into her dying cousin (General Hospital, 1994); and were occasionally a little too real, like when real life actress Jeanne Cooper had a facelift, and actual footage was used for her character's cosmetic surgery (Katherine Chancellor, The Young and the Restless, 1984). On the other hand, actors sometimes brought in their own circumstance for the greater good, as Maurice Benard did with his character of Sonny Corinthos on General Hospital, who has the actor's own bipolar diagnosis.  
While the first openly gay character on American television was Jodie Campbell (Billy Crystal) on 1977's Soap, a sitcom that parodied soaps, All My Children introduced Lynn Carson (Donna Pescow) in 1983, as an openly gay therapist. In 1992, One Life To Live tackled homophobia and the difficulties of being a gay teen, when Billy Douglas (Ryan Phillipe) came out to his parents in order to defend a pastor falsely accused of molesting him. Once thought to be a disease only related to gay men, the first AIDS storyline was portrayed on Another World, when Dawn Rollo (Barbara Tyson, 1987) contracted the illness from a blood transfusion. General Hospital's Stone Cates (Michael Sutton, 1995) became HIV positive after sleeping with his drug addicted girlfriend, and then infected Robin Scorpio (Kimberly McCullough). While Stone passed away, his memory lives on in the yearly Nurses Ball, when the characters put on a talent show that raises funds for HIV/AIDS related charities. A favorite of fans, while the Ball isn't real, the need is, and the show has heightened awareness.
Once considered to be only a training ground where actors got their start, like Brad Pitt (Another World, 1987), Meg Ryan (As the World Turns, 1982-1984), and Ricky Martin (General Hospital, 1994-1996), guest spots eventually became a coveted role for the already famous. Elizabeth Taylor attended Luke and Laura's wedding on General Hospital as Helena Cassadine in 1981, and Carol Burnett was cast in the recurring role of Verla Grubbs, long lost daughter of Langley Wallingford, on All My Children from 1983 to 2005. Both Snoop Dogg and Erika Badu performed as themselves on One Life to Live, and Little Richard officiated at a wedding on the same show. Max Gail is currenting stomping my heart out on General Hospital, as Sonny's father who is battling Alzheimer's. 
Daytime soaps are a special genre where viewership is often inherited. Your mom watched it, so you watched it, and the habit continued. I learned the ABC line-up at my Aunt Mary's knee, having spent days during summer vacations at her home. While there were times when I couldn't or wouldn't watch – I got so mad at General Hospital for killing off Alan Quartermaine, I shunned them for a good year – it was easy to get back in the game, as plotlines don't often move at a very fast pace. Recording devices made it easier to watch a week's worth of episodes in an hour, being able to zip through parts that aren't of interest. Little did I know, one day, I'd actually be in a soap.
Okay, I'm exaggerating just a little, but I did do a workshop with some of the One Life To Live actors in 2004. Although now defunct, a program called Daytime Encounters gave fans an opportunity to be up close and personal with the stars they watched daily, rotating which soap they engaged. I'd checked into it online, but the price tag was a hefty $500, so I put my name on a list to be notified about future sessions. I'd forgotten about it, until almost a year later, when I received an email from the Fine Living Network. They explained they were doing a show called Fantasy Camps, and wanted to include Daytime Encounters. They were willing to pay for me to go, in exchange for my being filmed and interviewed for their show. Best. Freebie. Ever. The event was held on a Saturday in Manhattan, but they also wanted to come out to my house that Friday evening to do some interviews. I mentioned that I'd done some acting in the past, they asked if I had any scrapbooks, and requested I dig them out of the black hole where they'd been put years before. It figured we had a heat wave that weekend, and on top of feeling like a sweaty mess, the sound man wanted the air conditioner turned off. But the show must go on. The interviewer asked if I had any episodes recorded, and since I had one handy, they told me to pretend like I was watching them for the first time, and react. No problem, but then we came to the scrapbooks. I was instructed to pour over them as they filmed, and felt like a modern day Miss Havisham, still waiting for the right part to show up instead of a man. My husband was keeping our three dogs outside; a Golden Retriever misnamed Einstein, a German Shepherd named Madison, and my precious Pekingese, Juliet. The interviewer suggested getting some footage with the dogs, and I thought this was great. My Juliet would become a star, the world immediately falling in love with her as I did. Instead, the two big dogs looked at us like they'd never seen people before, totally ignoring a stick the interviewer suggested I throw, and Juliet barked incessantly at the cameraman. "Pick her up, and give her a kiss," the interviewer said. I did, and she promptly tried to bite me on the nose. So much for stardom, but through the magic of editing, you'd never have known I was drenched in sweat, or that Juliet was a small, furry devil in disguise.
The next day was both wonderful, but grueling, especially in 110 degrees. There were three of us who would be subjects of the show, and they had us enter the building several times, the promise of AC repeatedly slipping from our grasp. First, we went through auditions for a scene that we would be doing. Everyone got a part, but some had more lines than others, while still others had no lines and would be part of the crowd at a party. My part was a handful of lines where I got to be funny, so I loved that. And I swear this isn't sour grapes, but the biggest parts went to people who'd already done the workshop a few times. We had lunch, and went to hair and make-up, also changing into the outfits we'd brought with us. While we were still fresh, we had the opportunity to take photos with the actors. We rehearsed a couple of times, and the scene was filmed, copies made for each of us to take home. Next, the actors spoke about their careers, and there was a Q&A session. It was so long ago, I don't recall much of what was said or who most of the panelists were, but I do remember Ilene Kristen (Delia Ryan, Ryan's Hope; Roxy Balsom, One Life To Live) suggesting that if you wanted to go into soaps, don't. She explained scenes were often not only filmed out of sequence, you might have to film scenes for several episodes weeks ahead of time, making days extra-long. She also told us that you could be fired for anything at any time, which had happened to her for weight gain, although a contract player would have to paid through the end of their contract. We watched our episode, and I can confirm that the camera makes you look heavier than you are. Like Friends' Chandler said about Monica in The One with the Prom Video, I wondered how many cameras were actually on me. While the whole thing was a lot of fun, after being followed by a camera all day, and doing periodic interviews, I could understand why a celebrity might say, "No more pictures!" I must have done something right though, as I ended up being the only one featured in the show.
If that experience wasn't enough to confirm soap acting was difficult, a subsequent visit to the OLTL set clinched it. A friend of mine knew a boom person, and we were able to hang out there for a day. Everyone was extremely gracious, and stage manager Alan "Needles" Needleman remembered me from Daytime Encounters. Or at least he said he did. After reading an interview with him in Backstage, he may very well have, as he stressed the importance of the human element in the business, and doesn't believe in on-set hierarchy, saying, "Just because someone's an extra, he's no less of an actor than someone with lines." I was able to see what hard work it actually is, a lot of hurry up and wait under some very hot lights. When we were told to be quiet on the set, Bo Buchanan (Robert S. Woods) winked at me, and silly as it sounds, it's a moment I'll always treasure. During the filming, a big storyline reveal happened, and it was difficult to keep quiet about it for the next two weeks, but I knew a hit would be put out on me if I revealed the reveal. Well, at least they would have known where it came from, so I sat on the info. These are fond memories, since OLTL, along with many other daytime soaps, are now gone.
Passions was the last original soap created for American network television, and by the end of 2012, the daytime landscape was vastly changing. Some soaps, like The City and Port Charles were canceled because they never caught on, especially against other powerhouse dramas. Others like All My Children and Guiding Light were eventually canceled because of low ratings. With budgets becoming tight, and intense competition from 500+ channels, network producers wanted to change daytime to a more modern environment, and soaps were whittled down to a precious few. Those of us who love them were saddened that characters we grew up and older with disappeared.
But don't let that fool you. There are a lot of soaps still around, and you watch them. Dallas and Dynasty are obvious choices, but there are so many more. Showbiz CheatSheet's Mandi Kerr posed the question, is Grey's Anatomy the millennial General Hospital? Besides it fitting the definition, Grey's is long-running, has a dedicated fan base, and is part of pop culture. Says Kerr, "They'll [both] always be listed among hospital TV shows and hold a larger place in the zeitgeist." Law and Order, The West Wing, Six Feet Under, Succession, Ozark, Insecure, This is Us; the list is endless. 
My husband gets particularly annoyed when I say The Sopranos is a soap, but sorry dude, it is. Irma Phillips gave us a format that will live as long as there's a platform to show a drama. I doff my cap.