Hamilton: History Then Becomes History Now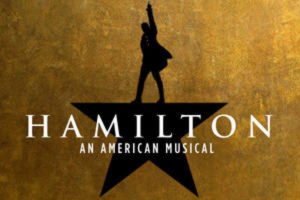 We won't speak of the amount of time I invested, trying to win tickets in the Hamilton lottery. The hours of my life I can't get back, and the disappointment keenly felt every time I was not a winner. Okay, maybe I am still a little bitter, but in the days when the lights were still bright on Broadway, Hamilton tickets were going for astronomical prices; that is if you could get them at all, since it was sold out for the next fifty years. Once Lin-Manuel Miranda promised it would be released on DVD one day, I relaxed. While nothing beats the experience of a live performance, my FOMO wasn't nearly as bad, knowing I'd at least get my shot to see it. (You knew that phrase had to be in here somewhere. Might as well get it over with.) Now, anyone with a streaming device can see it on Disney+. The one-month price of seven bucks is cheaper than going to the movies, and you can make your own popcorn. You can also sing along, and I did. I'd gotten the soundtrack prior to my futile attempts to get tickets, wondering what all the fuss was about, and expecting to think it wasn't all it was cracked up to be. But it was. 
I've been a fan of musicals since I was in the womb, raised on the old classics, and eventually studying with Word Baker who directed The Fantasticks. I spent much of my teen years listening to Stephen Sondheim, Bob Fosse, and 1776. For one summer solid, I put the soundtrack on immediately after I got up every morning, and I'm surprised my father never dropkicked it out a window. I loved how Sherman Edwards and Peter Stone made our forefathers come alive, as real human beings with feelings and failings, not just historical figures on the pages of a book. Decades later, Hamilton: An American Musical came along to finish the job.
Just in case you've been living under a rock, the play is about the life of Alexander Hamilton; his beginnings in the newly formed Federalist party, his marriage to Eliza Schuyler, his gig as George Washington's right hand man, his creation of the federal banking system and rise to Secretary of the Treasury, and his death at the hands of Aaron Burr. Ultimately, it's about his downfall caused by his own words. 
It was a long road from thought to stage. Inspired by Ron Chernow's biography, Alexander Hamilton (Chernow also became the historical consultant for the show), The Heartbreak of Aaron Burr by H.W. Brands, and Affairs of Honor by Joanne B. Freeman on the art of the duel, Miranda originally intended Hamilton to be a concept album, The Hamilton Mixtape. At a White House Poetry jam in 2009, Miranda sang Alexander Hamilton for the Obamas, and the first couple gave him a standing ovation. In 2012, Miranda staged a concert production of songs from Hamilton at Lincoln Center's American Songbook series, and Stephen Holden from the New York Times hailed it as "an obvious game changer." Boy, was it ever.
While much of the music is in the style of rap and hip-hop, nearly every technique can be found. Mobb Depp, Notorious B.I. G., DMX, Busta Rhymes, The Beastie Boys, and Kurtis Blow are represented in a variety of ways. Eminem and Mary J. Blige are heard in Yorktown (The World Turned Upside Down), blended with an actual drinking song of the era, and the rap battles of 8 Mile are embodied in Cabinet Battle #1 and #2. Beyonce shows up in Helpless, and The Schuyler sisters themselves are often compared to Destiney's Child. The introduction of Hamilton's core group – What time is it? Showtime! – is a nod to the litefeet dancers who introduce themselves that way on NYC subways. There's no lack of Broadway influence as well, with traces of South Pacific, Camelot, and Pirates of Penzance. King George is all about British 60s pop with his repeat effort of You'll Be Back, as Miranda wanted the king's character to show a drastic contrast. Even 1776 gets its due, with Hamilton telling John Adams, sit down, John. I can also smell Hairspray when the Schuyler sisters have their unsupervised adventure in NYC, and hear The Rocky Horror Show at the end of One Last Time, when Washington sings "I'm going home." Some musical references were included in the program, but Miranda said he didn't want to give them all away, because he felt like Rap Genius was going to have a field day finding them.
In the core group, there's lovable rogue Hercules Mulligan (Okieriete Onadowan); John Laurens (Anthony Ramos), a spirited guy who wants to lead the first Black battalion and end slavery; and Marquis de Lafayette (Daveed Diggs), the self-proclaimed "Lancelot of the revolutionary set." Aaron Burr (Leslie Odom, Jr.) is somewhat of an outsider, playing his cards close to the vest, and never letting anyone know what his viewpoint is. New to the group, Alexander Hamilton (Miranda) is a big mouth who writes his way out of everything. Until he doesn't. George Washington (Christopher Jackson) is an overwrought general, fighting on the front lines, and frustrated with his forces. Thomas Jefferson (also Daveed Diggs), who's away in France for the first act, is interpreted as a little high, a little arrogant, and lots of fun. He "brings the thunder," a far cry from the "red-headed tombstone" in 1776. King George (Jonathan Groff) is portrayed as the jilted lover, who will "send a fully armed battalion" to remind you of his love. Who hasn't had one of those in their life? Just a little bit scary, he's also the comic relief, which is often needed. The Schuyler sisters Angelica, Eliza, and Peggy (Renée Elise Goldsberry, Phillipa Soo, and Jasmine Cephas Jones) are girls no different from those of today, trying to get out from under their father's watchful eye and explore the "greatest city in the world," New York. Even the minor characters, such as James Reynolds (Sydney Harcourt), are brought to life as real people. Nobody is just a one-dimensional paragraph. The acting is superb, and several actors take on multiple roles.
My personal favorite is Washington. Only his letters from the field are read in 1776, Thomas McKean (delegate from Pennsylvania) saying, "that man would depress a hyena." His full character is on display in Hamilton. We go with him from fighting in the war to stepping down after his second term as President, "so the nation learns to move on," and outlives him when he's gone. He's someone we could use today; a politician who puts his constituents ahead of his own agenda. Being products of their time, yes, all of these men owned slaves, but as Jackson said, "The show was not meant to solve problems, but meant to inspire thought, and inspire change through action. We can't do that unless gaps are filled in about where we are, how we got there, and what we're supposed to do now."
Rather than taking it off the stage, Hamilton is a straight filming of the play with a live audience, but has the advantage of crane shots, close-ups done in a separate filming with no audience, and perspectives you wouldn't see while watching in the conventional way. The bare bones set works well, with the actors moving the minimal set pieces on and off. The staging is clever, and the dancing no less than magnificent. 
I'm fond of saying musicals bring joy to the people, usually after a couple of drinks when I want to break out the show tunes, but besides all the music, Hamilton gives you all the feels. The joy is there, but also the desperation of a man who's main purpose is to leave behind a legacy, and trashes his own life in trying to accomplish that purpose. We feel the pain of betrayal in Eliza's Burn, and the hope of a new nation in The Story of Tonight, as the budding revolutionaries sing, "raise a glass to freedom; something they can never take away, no matter what they tell you." Oddly enough, one moment that brings tears to my eyes is when Angelica and Eliza are at their happiest in Take a Break, because I know that happiness is short lived.  
The struggles are relatable, like the argument for helping France during the French Revolution. Thomas Jefferson was all for lending a hand, since when we needed "money, guns, and half a chance," France stepped in to help us. However, being a new nation still getting on its feet, Hamilton thought it best we stay out of it, or risk having to help everyone. It's like if one of your friends needs help with their rent, and you just got a job after a year of looking. They helped you when you were jobless, and you'd love to help them, but you're still broke, and if word gets out, you'll have to help all of your friends. 
Even Hamilton's ultimate struggle, that he couldn't shut his mouth – or his quill pen – is meaningful today. If he'd been on social media, his downfall might have come a lot faster. In a moment of bad decision making, he began an affair with Maria Reynolds when his wife was upstate visiting her father. Subsequently, Maria's husband extorted money from Hamilton to keep quiet about the affair, even encouraging it to continue. James Reynolds was eventually jailed for stealing Revolutionary War veterans' back pay, and tried to drag Hamilton into it, knowing Hamilton would have to either go along with the story, or risk being outed. When accused of stealing treasury money by his peers, Hamilton outed himself, word eventually getting back to Jefferson, his lifelong nemesis. While the whole unsavory story was condensed in the musical, it culminated in Hamilton writing The Reynolds Pamphlet, sharing his side – 95 pages of it – causing upheaval in both Hamilton's professional and personal life, his wife burning every letter he'd written to her. Eventually, Hamilton's words even led to his demise, the duel with Aaron Burr having resulted from disparaging remarks Hamilton made at a dinner.
In 1776, Thomas Jefferson hasn't seen his wife for months, and insists on some alone time before he gets to writing the Declaration of Independence. Adams wondered what people would think about them waiting outside while Jefferson got busy, and Franklin assured him the history books would clean things up. And so they did, until Hamilton blew us all away.