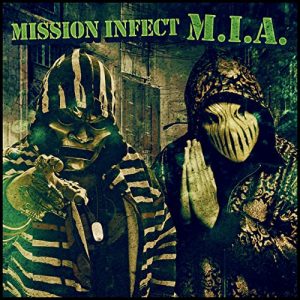 A man comes out of the shadows. As the mist clears, we see he's a big man, a mighty man, a man worthy of the gold chains he wears. He's The God Mumm-ra! He's the creator of Dead Eye Conflict, 3rd Earth, The 13 Immortals, and The Soldiers Of Ra. He's a songwriter, a rapper, an underground artist, an actor, and so much more. His latest album, House of M, is in the process of dropping, and his track Unleashed is up for Underground Video of the Year. You didn't know there was an Underground Video of the Year, or even that there was an underground rap scene? Don't feel badly. The God Mumm-ra is here to educate you. He was kind enough to sit down with me, albeit virtually, and tell me all about himself, and underground rap.
First, although I consider myself a rap and hip-hop fan, I was clueless about the underground scene. So I asked Mumm-ra what was different about it, and what was it all about anyway? He told me the underground scene seems to be a lot bigger than what the mainstream scene is; a whole realm of music that a lot of people don't dive into or know about. He said, "For me, when you're an artist, I don't care what you're doing, you start off underground." Mumm-ra was there from the beginning, and said that underground artists proved they could make moves in the industry that benefited themselves a little more, and definitely with the music. There aren't rules to follow in the way it's structured, or about what they can and can't say. "The ability just to be more open is better in the underground scene. The underground scene defines hip-hop for what it is, what it was always meant to be, and it comes in many different forms." He said there were very few artists out there that he's liked that were mainstream, and the ones he did were mostly from the past; Run DMC, Rakim, the Fat Boys, Biggie, and DMX, to name a few. I wasn't surprised to find out Mumm-ra also likes Queen, Kiss, Metallica, and Black Sabbath. I asked what other musical genres he enjoyed and gleaned from, and Mumm-ra said he was definitely into some old music and classical music, atmospheric music, drum and bass hip-hop, house music, rock, and heavy metal. He said everyone in his circle had wide-ranging musical tastes in what they listen to, what they like to surround themselves with, and what influences them and opens their minds more. Growing up, Mumm-ra was influenced by a lot of Spanish music, as well as dancing, another of his talents being Salsa. Music always had him at his happy point. I asked when he knew music would be his life path, and he said it was always in him. Growing up, listening to his family's music, and being introduced to rock, metal, hip-hop, jazz, and oldies. What got him into heavy and death metal were the guitar riffs. He said, "it was pretty dope. And when we started hip-hopping, it was working out breaks to the songs."
We talked about House of M, which Mumm-ra told me was his anniversary album. "It's basically an introduction and welcome into my home, an inside look into the world I exist in, where you'll see artists rocking with other artists; people doing tracks together you wouldn't normally have seen doing tracks together. It offers diversity and allows people to build bridges and cross bridges, and expand…" I asked how he chose the artists for House of M, and Mumm-ra said some were people he'd worked with before, some he'd wanted to work with, and some were artists that grew up listening to him, earning his respect in the underground scene. He'd wanted to do tracks with them, but it had been difficult to connect up until now. People he'd wanted to work with, and people who were interested in a collab spoke up, and they made it happen. He thought it turned out pretty dope with a diverse group of MCs working on the project, different producers like Big City, the Godfather, and Brooklyn. "Some of these cats are from Russia, the Netherlands and Sweden… Some of the videos were shot by Lo Key, who's part of Mission: Infect, one of the biggest movements in the horrorcore scene underground."
I asked if the pandemic had hung him up in any way, and Mumm-ra said it gave him more time to think and structure the album exactly the way he wanted it. It did hurt the band in not being able to do shows, as that's where merchandise sales are the greatest, and they offer people cool items that can't be found anywhere else. I asked about the merch, since there's such a varied line of it, and Mumm-ra told me that while you always have to expand, it started with only shirts. He learned a lot from our own Michele Mupo. Signed to MuTan Records, a rap label that Michele owned with Bernard Perdie, Tron Anderson, Dawn Marie and Carlene Tanner, it launched Mumm-ra's career. After that, he went into Mission: Infect and learned from Lo Key on the marketing. Mumm-ra is convinced, "Whatever you put your mind to, you can get it done." He's a strong believer that people don't know what they want until they see it. "You create something, put it out there, have someone to stand behind it, it has a purpose and a meaning to it, and it draws attention." They started designing "medallions and rings, clothing for females and guys, clothing for kids." He even has his own sneakers, and is working on a toy line. I told him I couldn't wait, as this is a particular weakness of mine. I knew he was also a collector, and asked if he attended conventions and he said as many as he could. We agreed conventions are definitely being missed during the pandemic.
This led us to discuss Lemonade Acre, a special effects company that Mumm-ra is a spokesperson for. I asked how this collaboration came about. He said Lemonade Acre is owned by Trina and Bert Boutin, who he considers family. He met them after the filming of Stasis (now on Amazon Prime), when they showed him their shop where they were working on an independent zombie movie. Owner Trina spotted Mumm-ra and heard his comments about their creations, pulling him aside to introduce him to her husband. They showed him some of the other things they were working on, and they hit it off. "At first, nobody knew who I was, or what I was doing, or if I did anything," Mumm-ra said. While everyone else introduced themselves and handed out business cards, Mumm-ra hung back, and his silence got him noticed. They asked what he did, he showed them some of his videos, and they immediately wanted to work with him. He became tight with their family, and was made the hip-hop spokesperson for their company. They've also created some props for Mumm-ra's upcoming video that he'll be shooting in Arizona. We spoke about his video Unleashed, which was filmed by Lo Key, and Mumm-ra said they had a lot of fun shooting it. He likes to be out of the norm in his videos, and told me that when people see him and find out he raps, they automatically think of what they hear on the radio, but when they see what he does, they feel like they've been hit from out of nowhere. I asked about the masks, which are a part of his stage persona, and he says he's always rocked them, along with his claw rings, which are featured in Unleashed. He says it's part of what he calls his "god armor." "Like, if this world was a little bit different, that's how you'd see me on a regular basis. It's like who I am. Upgraded. Powered up." 
Mumm-ra has been nominated for Underground Video of the Year, so I asked how he felt about that, and  if he had an acceptance speech ready. He said he didn't, and he was actually shocked when he went to vote for a fellow artists. He was looking down the list, and was surprised to see his name there. He said. "It's a great feeling; it's an accomplishment." He previously won in Allentown for Outstanding MC, and said it was also a great feeling to be awarded for the Mission: Infect albums.
A native Chicagoan, Mumm-ra eventually moved to Allentown, and I asked if the scene there was different. He said it was, although they were close enough to the same wavelength. In Chicago, he was around people he grew up with, and they were already into breakdancing. By then, he was also writing rhymes, and the people who pioneered the scene in Allentown became his mentors. "You know how it is. You're the new kid in school, and everybody's watching you. You get caught in a conversation, and the conversation leads from one thing to another, and I just started getting introduced to people. It picked up from there, and from there, it's never stopped."
I asked about Mumm-ra's rhymes and if he ever gets stuck, and he said to say he never got stuck would be a bunch of BS. He's had his times of writer's block, but writes constantly; writing something every day, no matter how little it is. Normally, he writes the lyrics without music and adds the beat later, but sometimes zones into a beat and tries to see what the beat is saying, what it pulls out of him mentally. That's when he zones in and it just happens; it pops into his head and goes from there. I asked which gave him more satisfaction, the creative process, or bringing the creation to the people, and Mumm-ra told me, "both in their own way." When he writes, then listens to the finished product, he wonders how this stuff even came into his head, especially when he's doing a song with someone else; he vibes to their energy. It will bring out a different flow and word play, and the finished product can be mind blowing. He gets the same feeling when listening to others write their music, wondering how they came up with it. "When you're in the moment, you know what you're doing, then when you try to explain it, you can't. When you go on stage to actually perform your music, and see the crowd, and feed off their energy, and they're screaming at the end, that's an enjoyable moment too."
While he hasn't written for other artists, Mumm-ra has been generous with sharing his knowledge, and helping to make adjustments in rhymes. He says, especially for being Hispanic, his style is different. I asked how he determined who to work with, and he said everything was based on energy. He'll see how someone interacts with others, and keep an eye on them at other people's shows. How they are with other people, and how they are when they're just chilling. He figures out who's who, and who he vibes with.
I had to ask what Mumm-ra's favorite horror film was, and after much thought, he told me The Exorcist, the uncut version – "It was twisted." I asked if he'd like to do more acting, since he's already been in three films (What We Do, Elastic Heart, and Stasis), and he said it is something he'd like to explore further, as well as doing voiceovers. He's enjoyed the parts he's gotten to play so far, and was grateful to those who'd helped him, again including Michele, who'd gotten him his first acting gig with What We Do, when Mumm-ra was on set and she suggested to director Ernest "Tron" Anderson he be an extra. A member of Mission Infect got him in to Elastic Heart, which led to Stasis, which allowed him to meet the people from Lemonade Acre. He's always in contact with Trina and Bert, and they keep each other up to date on what's happening, while waiting for the whole covid thing to be over, so they can go back to doing what they were doing.
I asked about his travels, and he said pretty much every spot they've played at, they had a ball, whether the place was packed or not. Even if a show had a sparse audience, they still rocked it out, which IMO, is what a true artist does. He said every place had been awesome, and his favorite on the West Coast was the Arizona live scene. He gave a Midwest shout out to Carl's Tavern in Indiana, saying the venue wasn't big, but big enough. He had one of his best times there at Nasty Nas 3, where he was a surprise guest, and "it was bananas." We talked about the difficulties covid had added to travel, and Mumm-ra told me that one of his collaborators, Brooklyn, is from Moscow. Brooklyn is also a fan, and Mumm-ra has guested on Brooklyn's tracks, creating a Russian following of Mumm-ra's music. No doubt he'll be welcomed there, should he decide to visit Brooklyn's home turf when travel becomes less of a hassle.
I had to bring up Mumm-ra's stint as a bodyguard, and his gig guarding Nichelle Nichols, aka Lieutenant Uhura form the Starship Enterprise. I asked him if he was in awe, and he said she was his first sci/fi crush. It was the last bodyguarding gig he did at the Allentown Comicon. Since he was already well-known in Allentown, a lot of the venders had given buzz to the fact he was coming. When he got there, Nichols said she liked the way he looked; he looked scary. He got to chill with her, and said "it was pretty dope. She was a good woman. Still high-spirited and doing her thing. It was awesome."
In watching other interviews with him, Mumm-ra's respect for women had impressed me, and I asked if having daughters had brought that out in him, or if it was something instilled in him growing up. He said it was just the way he was raised. I asked if he had a tight family, and after pausing for a second, he said, "nah," causing both of us to laugh. He said, ironically enough, each of them grew up differently. He'd had certain adults around him that noticed he was keen to a lot of knowledge that was out there at a young age. He understood it, but could also explain it the way he understood it in his mind. He was deep into various cultures, and began doing the powwow early on. His daughters are feather dancers as well. He even studied the knowledge of mathematics, and his whole life, that's how he's always been.
I asked what his next step was going to be, and Mumm-ra said he was concentrating on getting the new album out there, but the next step would be, being able to pull off a tour. He said his next project was going to surprise people, and he was in talks about it now. Besides more acting and voiceover work, Mumm-ra is interested in continuing to expand the music and the movie stuff. "You never reach a goal. Once you reach a goal, all you can do is excel to the next level after that. There have to be different lanes, as many as you can do to keep your growth going."
He said the best advice he could give young music artists coming up is, "take the time to enlighten your mind. Everything is a choice. You can either choose to live life the way they're telling you to live it, and live by the rules, or you can truly just live for you… If everybody did the same thing, it would be a boring-ass world." I asked what Mumm-ra did in his off-time, if there was any, and he said he didn't believe in time; he just flowed like water. Handling music, chilling with his people, spending time with his daughters, handling the business. Even if he's chilling playing video games, getting together, having a party, or even getting ready for a show, he just flows like water. Perhaps we'd all do well to have that as our mantra.
You can find The God Mumm-ra on Facebook under TheInvisibleGod (Mumm-ra), on Twitter @infectmummra, and Instagram at thegodmummra_,. You can check out his videos on Youtube.com/invisiblegod7, and download or purchase his tracks at his website Mumm-ra.bandcamp.com. While you're there, make sure to get yourself some dope merch, and find out what's happening in Mumm-ra's world. Mumm-ra's music is sold on Amazon.com as well.  
You can also vote once a day at Repliconradio.com/polls.php for Mumm-ra's Unleashed as Underground Music Video of the Year, and help him bring the trophy home!
But no matter what, just flow like water.